The answer is yes for the Filipino artist Gilbert Calderon Angeles, who distinguished himself for the use of post-consumer waste for the creation of works of art. Aware that the Philippines is one of the world's most polluting countries, Gilbert has decided to include in his paintings scraps of plastics, especially those that are no longer recyclable, transforming his works of art into eco – paintings.
In fact, compared to the 8 million tonnes of waste reaching the oceans every year, those from countries such as the Philippines, Indonesia, China and Thailand account for 60 according to a 2017 report by the McKinsey Center for Business and Environment.
As for the process of recovery and creation of the works, Gilbert uses chopped plastic bags, of various colors and from different types of waste – from candy packages, bottle caps. In addition to the aim of giving new life to waste, thus avoiding further polluting the planet, it aims to create awareness of the negative effects of plastic, especially of disposable plastic. In fact, he is convinced that a greater awareness of a problem is the first step to intervene and make real and necessary changes. His hope is to be able to contribute, with his works, to this growing awareness.
It is artistic upcycling. Angeles is able to create works of art from a material almost banal but definitely abundant: waste. Works that he makes unique, giving new value to garbage, which becomes one with the work of art.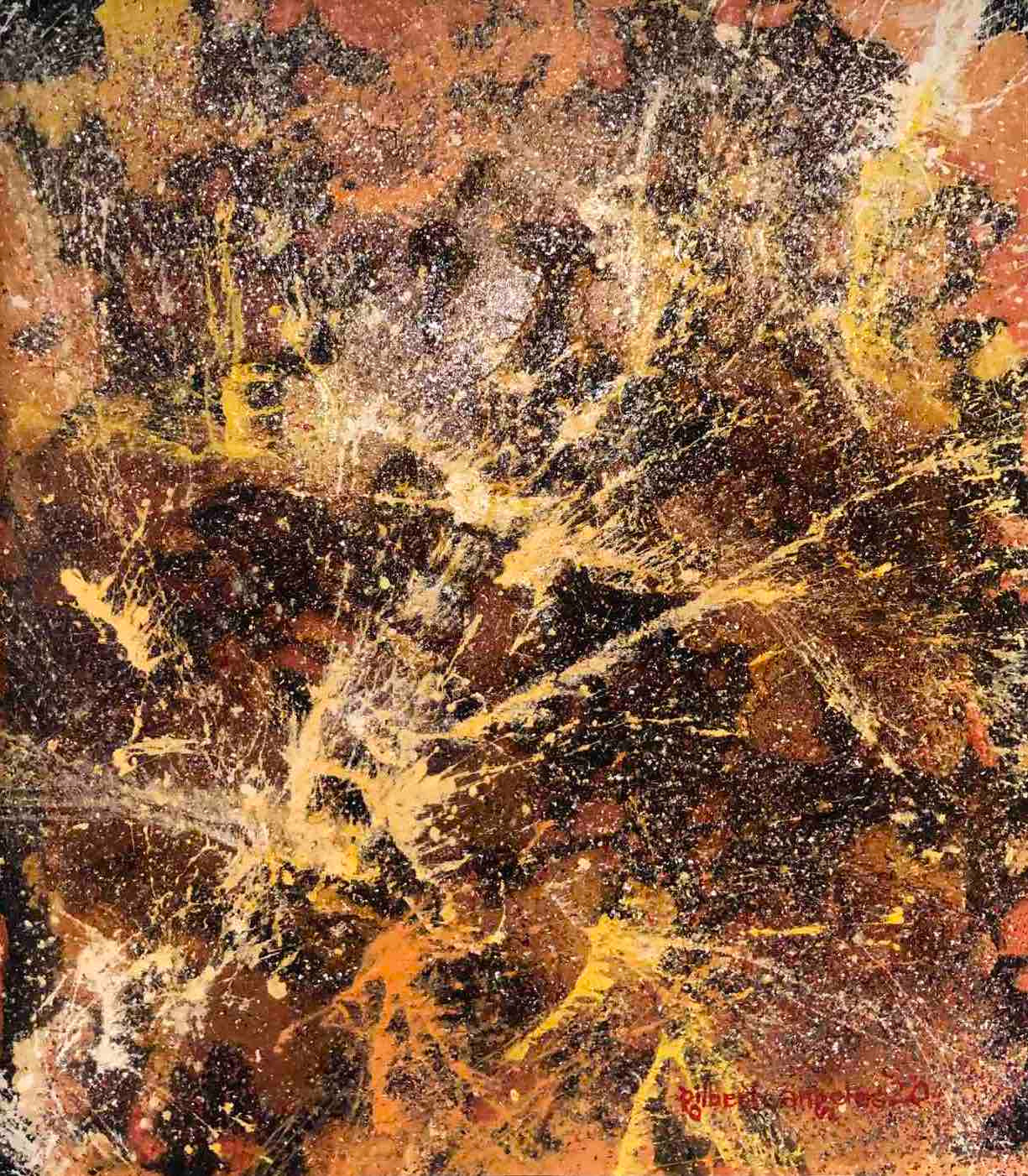 To obtain the vibrant and bright colors that characterize his paintings, Angeles joins the shredded plastic to paint residues and scraps of acrylic colors, which he calls "eco-paint". In addition, his canvases are made with wooden panels recovered from construction sites. Everything is recovered and reused, so as not to create further waste and damage to the environment.
In addition to this, Gilbert has created Green Artz, an environmental defense platform dedicated to art lovers and all those who want to be actively environmentally friendly, including companies and governments. With it, it aims to promote a sustainable arts culture, aiming to become a real global movement. For example, Green Artz collaborates with several companies, including an eco construction company – aware, which recovers disposable plastic bags and, once shredded, uses them as raw materials to create eco-bricks.